Conscience, Creativity and Freedom.
These three values are the soul of all my proposals.
Hello! I am Marina. 🙂 I am currently living in Buenos Aires and travel around the world doing what I love the most.
I am passionate about everything related to well-being, personal development and Spirituality.
I am a Music therapist by profession and have worked for a few years in
Mental Health. But then I chose to devote myself to dance and to teach Tango… that was more than 15 years ago! I am also a lover of Yoga as a practice but above all as a lifestyle because it has been slowly but consistently changing my life. This led me to train as an Instructor in Hatha and Ashtanga Yoga.
This nice mash-up is what drives me to help those who wish to connect or re-connect with their bodies through conscious movement.
I believe that learning how to be present in our own physical bodies is the first approach to any loving movement TO and FROM ourselves. It is also the beginning of a more conscious, healthy and fulfilling lifestyle. That is why the body and our relationship with it is central in all my proposals.
How do I do it? In face-to-face classes, as well as online sessions and training programs and also through different experiences such as Retreats and Workshops.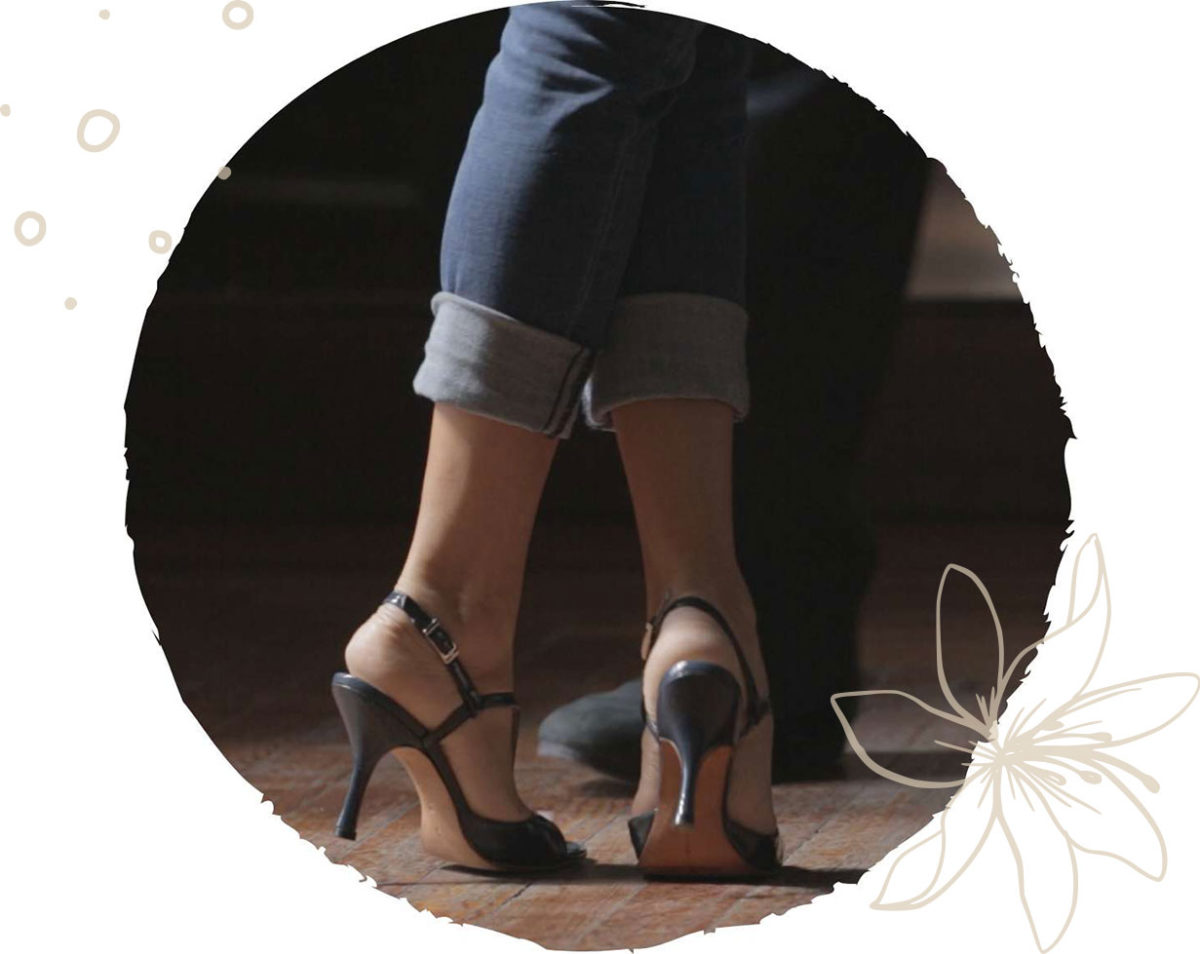 Yoga gives me the opportunity to bring awareness to our own being in many ways, and it is also a constant invitation to get to know ourselves better, take care of ourselves and expand. What I like above all is to have the freedom to take these tools but also to create some of my own. It is a great source of inspiration.
I fell in love with the improvisation, the creativity and the connection that Tango offers and the deep communication we can have with others. I have always devoted myself to social dance, the one of the honest embrace, an embrace committed with the other, and the spontaneous expression that arises from that encounter.
I am thrilled by the technical aspects of the movement in dance. I find in them a great source of challenge and growth, from which we can actually change, grow and create.
In all these years of personal practice, I found that by becoming more perceptive and sensitive, we also become more powerful and free, and that is what I seek to share: to learn to be perceptive and be present in the body, to use it in a healthy, simple and functional way, creating simple and powerful movement patterns. To inhabit our own beings in depth and in a better way, as a way to grow and expand, from the inside to the outside.
Testimonies
"She is an excellent dancer, teacher and professional and above all, an excellent person. She's BIG!"
"I cherish the depth and clarity with which she passes on her personal experience. She devotes time and attention to every student and is aware of each personal process. I am always inspired by her phrases and comments and fully enjoy the warm atmosphere created in her classes…"
"Her originality and sensitivity are very important aspects: she proposes a bond between what we do, think and feel and makes it the starting point of her proposals, and that is very inspiring. She's an upright woman and professional…"
"Marina provides spaces for connection and reflection, passing on a very special energy and creating an atmosphere of trust and intimacy…"
¡Thank you!
For getting to know part of my world. Here you will find classes, events and experiences that offer a time of connection with Tango and Yoga as the most important and generous tools. I really hope that they inspire to empower and nurture the most important relationship: That of you with yourself.
I also invite you to write to me so we can design together a plan that suits you, respects your times and fulfills whatever it is you need right now. I'm all ears!
I have faith that the tools that I've learnt and experienced in my path can help you in your process of self discovery,  self care and also to expand and reinforce those things your body already knows…
I would be honored to guide you...